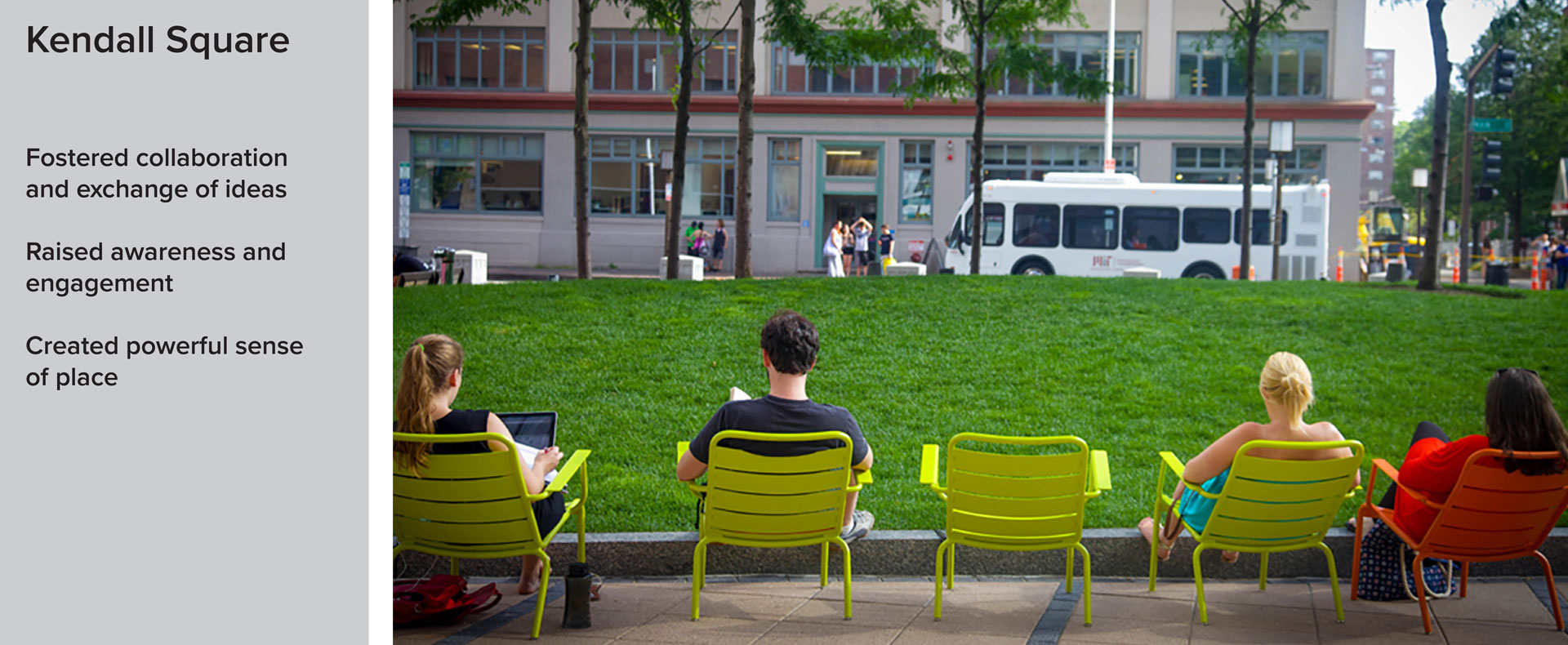 Kendall Square
bringing together diverse stakeholders to create a shared sense of purpose and place.
Kendall Square, one of the world's the leading centers of innovation and technology, possessed enormous creative, intellectual, and economic capital, yet was still lacking a sense of identity and place.
In order to drive a shared sense of purpose for Kendall's many stakeholders, we engaged them in innovative group exercises. These exercises helped us to identify systemic changes needed to create the climate for sustainable growth.
To encourage broader participation and collaboration, we created open source identity tools. Our conceptual prototypes visualized everything from civic living rooms to pop up libraries and public art installations.
In our first series of important interventions, we developed iconic signage and related elements to signal important points of intersection and develop consistent street presence.
The work set in motion the spirit of ongoing collaboration and actions needed to address larger ongoing issues of sustainability, transportation, and equity.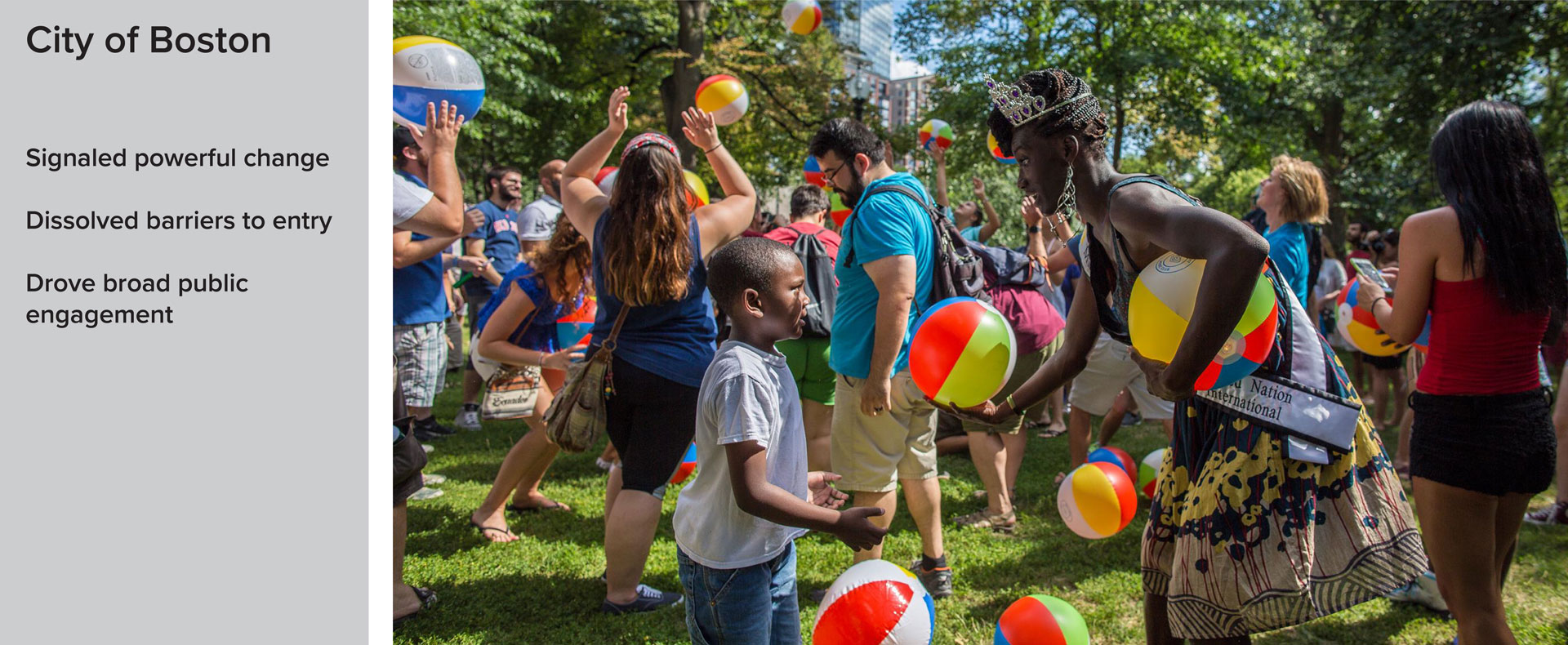 City of Boston
redefining access and engagement for a rapidly changing diverse city.
When the city of Boston embarked on its first cultural planning initiative since the 1970s, it marked an important turning point in its accepting of its role as a global, diverse city.
Working closely with a consortium of entities, we developed a powerful framework for the vision and reach of this initiative, marrying planning and emotional resonance.
We named the initiative "Boston Creates" and created powerful flexible tools built for the broadest possible use and adoption.
The intent of Boston Creates was to move beyond the plan and become an open vessel for the rich cultural expression inherent in Boston's diverse neighborhoods. Events were conceived across the city as branded shared experiences. Boston Creates not only enabled the community dialogue necessary to create this cultural plan, but also planted the seeds for the partnerships and collaborations to carry this important work forward.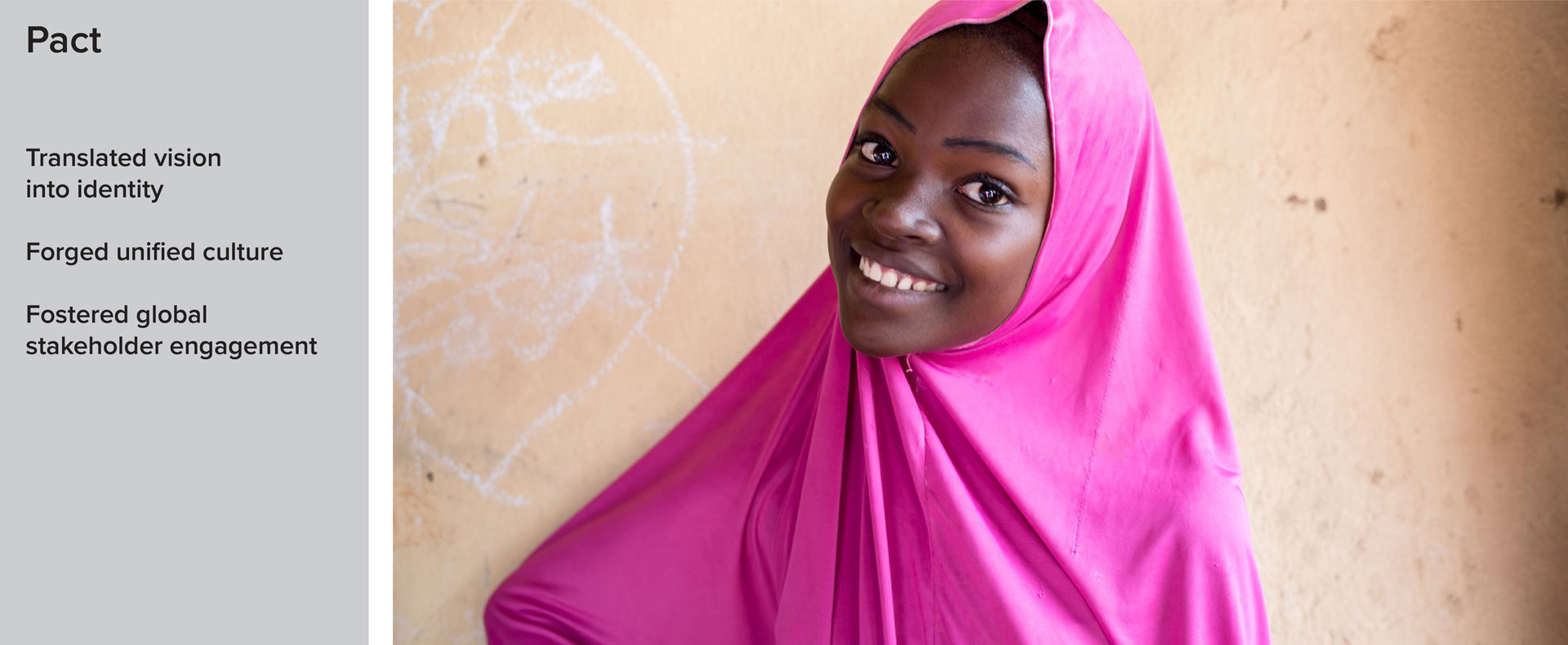 Pact
democratizing stakeholder engagement for an international ngo.
Since 1971, Pact has been leading sustainable development efforts in 62 countries around the world. We helped Pact leadership forge its forward-leaning vision into an emotionally resonant brand idea that has transformed the organization.
Pact's vision was crystalized in the universal visual metaphor of the mosaic, reflected in a new identity. The mosaic symbolized the shift from US-centric command and control to shared stakeholder engagement.
To bring intent into tangible action, we helped Pact build appropriate governance and review structure, foster consensus at critical milestones, and provide staff with tools to help them champion the brand in their respective roles.
The brand was embraced from boardroom to village and expressed organically in locations across the globe. Governance was restructured to allow for the direct representation of the people Pact serves.
Our work with Pact created a powerful platform for engagement. The new brand reshaped Pact's internal culture, which was ranked within the Top 100 in the Organizational Health Index following the rollout. As a result of their success, Pact developed new partnerships with powerhouse organizations, including the Bill & Melinda Gates Foundation, Coca-Cola, and GE.