We provide experiences that spark insight into ourselves, each other, and the world. Our mission is the art of understanding.
For 60 years, Ackland Art Museum has been a leader among academic museums and one of North Carolina's most important cultural resources. With an outstanding collection and commitment to education, it sparks insight and understanding within the Tar Heels community and beyond.
As the museum approached its 60th anniversary, it was poised to expand and enhance all that it does, leveraging its growing collection to become a preeminent public university art museum. In order to fully realize its vision and celebrate the anniversary, Ackland Art Museum engaged Minelli to rebrand the museum and create new visual and verbal tools that amplify what is spectacular and true about the institution.
We reviewed the Museum's recent strategic plan in addition to conducting new primary research. We spoke to stakeholders and gathered perceptions from attendees, members and staff. Our findings revealed an organization that, while not the biggest, proudly boasts an outsized influence. Small and mighty, the Museum is committed to the art of understanding – defining the future of academic art museums and nurturing transformative discoveries through individual encounters with art.
The design direction, captured in the word zoom, is about changing focus and challenging the expected. Imbued with motion and energy, the logo, color, and type treatment is strong and declarative.
The logo sits boldly and dynamically on printed and digital media with the option of animation.
The signature color, Ackland Fuschia, is vibrant and unique. It is used boldly as floods of color, and for large logos, signs and headlines.
The logo is built from the typeface Hongkong. The font is also used for the ethos statement and headlines. This unique and memorable typeface and type treatment create distinction in the marketplace and differentiation from peers and competitors.
Feature photo by Megan Kerns Photography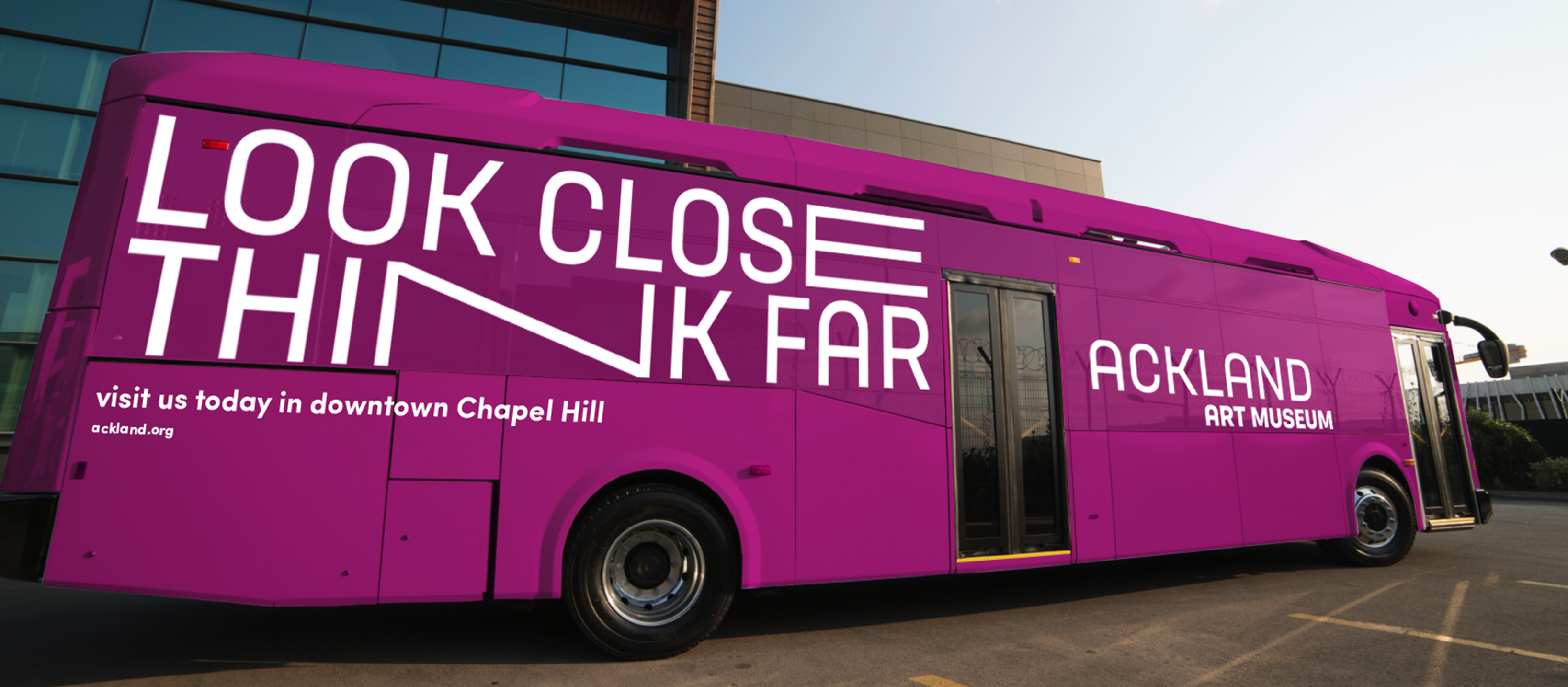 "Look Close, Think Far' is used consistently on high-level signs, collateral and advertising, becoming the understood and recognizable cue to the Ackland experience. Single words and short phrases are used to bring emotion to exhibit and event materials.
This system of stretched type, evocative words, bold fuchsia color and compelling photographs is used to create dynamic layouts that challenge the expected and, similar to the Ackland experience, reflect the museum's core attributes of being playful, rigorous and responsive.
Showcasing the refreshed identity and graphic tools, Minelli designed a new responsive website (scheduled to launch in early 2020) that will enhance and expand the Museum's reach beyond the galleries, building connections and support, and creating ripples that will touch millions.